Hi Guys,
Welcome to the first of a regular weekly update from Scifihardware / The Captains Store, in which I hope to bring you news and updates on current and future products, along with special deals & offers.
1/48 UFO KIT UPDATE
These last few weeks Bernie has been focused on finalising the last few elements of the Motorised UFO kits, this labour of love project has evolved into a bigger challenge than either of us predicted, but this now highly engineered kit is nearing completion and we hope to begin shipping the motorised and built kits in the next few weeks. I apologise to Bernie for ever saying "but it just has to spin right?"
Full info on the UFO kit here
PRODUCT OF THE WEEK
Each week I intend to highlight one key product that has or I expect will be popular with members and offer a special discounted price for one week only.
This week we are taking a closer look at the amazing
Space 1999 Colour Art Prints from Roberto Baldassari
This selection of colour blueprint style art prints, available in A1 and A2 size are a must for Space 1999 fans, covering the Eagle, Hawk, Ultraprobe and Moonbase alpha, these will look great mounted in any model room.
Grab these or any other items in the
Arts & Prints category
this week and receive a 10% discount!
New & Coming Soon
We have some exciting new Paragrafix Photo Etch kits on there way for those of you who like to give your models that extra touch of detail.
Initial stock of these will be limited so please email
sales@eagletransporter.com
for more info/pricing or to preorder/reserve one of these great kits:
USS Enterprise (2009) Photoetch Set
For the "Star Trek" (2009) and "Star Trek Into Darkness" USS Enterprise kit from Revell GMBH.
Add extra photoetched details to the Starship Enterprise, including:
Warp engine Bussard collector blades.
Impulse engine grills suitable for lighting*. Includes grills for both the original impulse deck and the "refit" deck added at the end of "Star Trek Into Darkness"**.
Complete shuttlecraft hangar, including shuttlecraft.
Field sensor grills suitable lighting.
An insert for the bridge area to add depth to the window.
* Electronics not included.
** Refit impulse deck compatible with the resin piece from Brad Hair Productions. Sold separately.
For kit: Revell GMBH 08442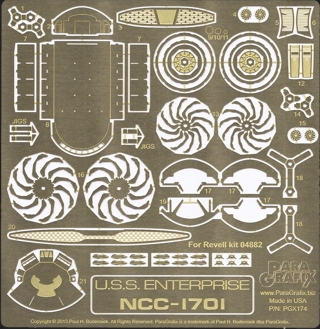 NEW! Moebius TOS Viper Photoetch Set
Add easily lighted* control panels and displays to Moebius Models' new Viper kit from the original Battlestar Galactica series.
This set includes:
Inserts for all cockpit control surfaces to make modifying the kit parts easier.
Screen accurate control consoles.
Specially printed backlight films for meters, instruments, and displays, with five different options for the central targeting computer / information screen.
Engine inserts to make painting easier – includes backlight films to soften lighting.
* Electronics not included.
For kit: Moebius #940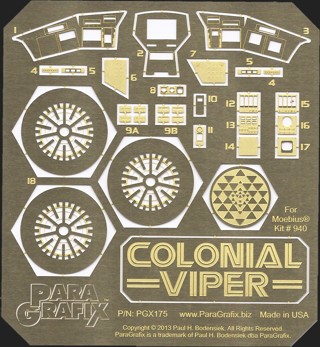 If you have any questions on the content here or anything from sourcing new kits to pricing questions, please email
sales@eagletransporter.com
or PM me - Karr1981
Until next week, Stay safe, and keep building models!